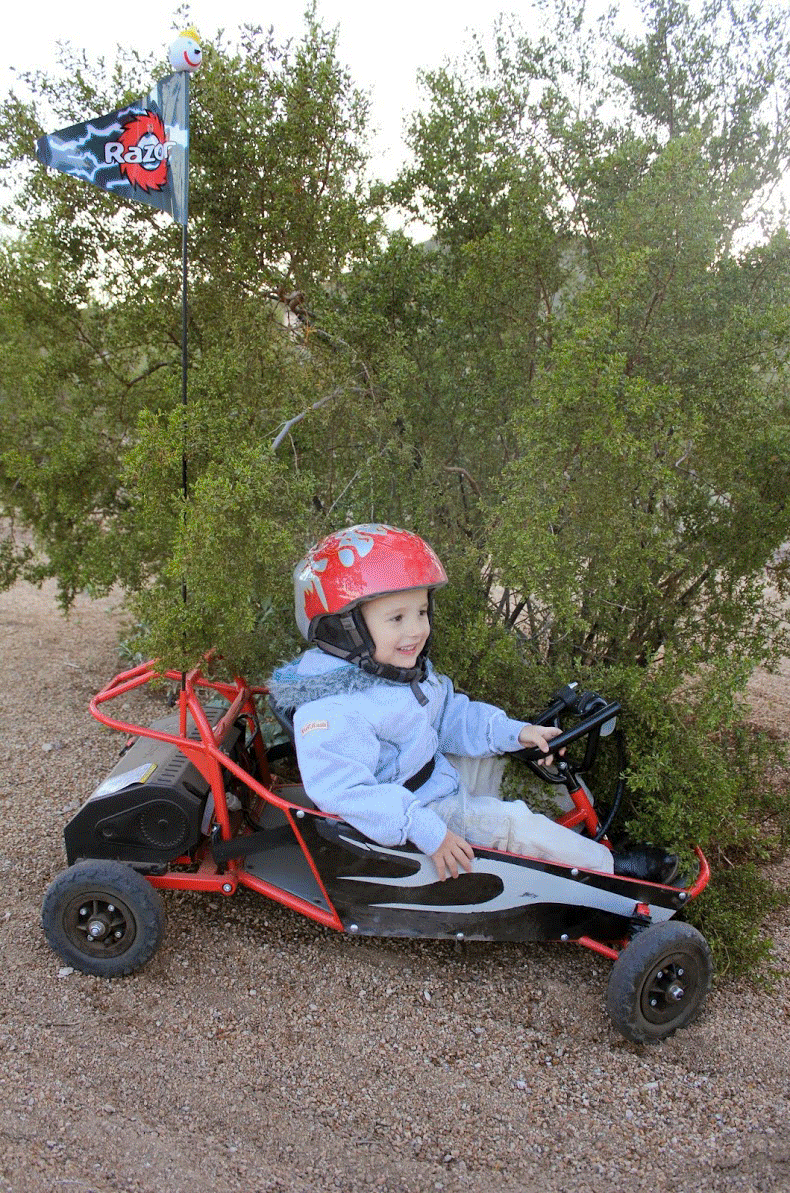 BATTERY OPERATED RIDE ON TOYS:
Jump Right to What Interests You!
We have since moved on but it sure was fun while it lasted!
My kids are teens now and we've moved on to gas powered ride ons like 90cc dirt bikes, wave-runners & rails but before that we enjoyed the entire range of battery operated ride on toys. Our favorites were our Easy Drive Choo Choo Train by Peg Perego, several 6 & 12 volt quads, various 12 volt cars and motorcycles, our 24V Razor Dune Buggies & our 36V Razor Dirt Bikes & Scooters.
Our Top Picks, Available at Amazon
24v Kids Ride on Toy SUV Battery Operated Tr

Best Choice Products Kids 24V 2-Seater Ride On Car SUV Truck w/ 3.7 MPH Max, Lights, AUX Port, Sounds - White Let your child drive manually or use the remote control to safely guide them yourself; remote has forward/reverse controls and speed selection. Realistic and built to scale ride-on truck comes with built-in LED headlights, a trunk storage area, horn, and start up sounds. Built-in AUX outlet lets kids plug in media devices to drive while jamming to their

Razor E125 24 Volt Electric Scooter

Razor E125 Kids Ride On 24V Motorized Battery Powered Electric Scooter Toy, Speeds up to 10 MPH, Foldable Handlebar, and 8-Inch Pneumatic Tires for Kids Ages 8+, Blue

Razor E125 Kids Ride On 24V Motorized Battery Powered Electric Scooter

Razor E125 Kids Ride On 24V Motorized Battery Powered Electric Scooter Toy, Speeds up to 10 MPH with Brakes, Foldable Handlebar, and 8-Inch Pneumatic Tires for Kids Ages 8+, Pink

Razor Power Rider 360 Electric Tricycle.

Razor Power Rider 360 Blast into the future with the PowerRider 360 - all-new, electric powered 3-wheeler from Razor! Features push button throttle and reaches speeds up to 9 mph with up to 30 minutes of continuous use Cut full 360 degree spins, slide, even drift on its duel inclined rear caster wheels Includes front, hand operated braking system, hi-impact pneumatic front wheel, 12V rechargeable battery system, and charger Recommended for ages 8 and up; supports riders up to 120 pounds

Ride on Toy Battery Operated Airplane

Kidzone 12V Kids Toy Electric Ride On Aircraft 360 Spin 3 Speed Airplane with Remote Control, USB Music, Sound, EVA Tires DIY Race# 00-99 and Alphabet Stickers, ASTM-Certified, Red

Segway Ninebot Electric GoKart Drift

Brought to you by Segway and perhaps the COOLEST new ride on toy to hit the market! We are so excited about the entire Ninebot Line. Get yours for $799.00

Segway Ninebot S Smart Self-Balancing Electric Scooter

Price: $489.99 Prime FREE Delivery & FREE Returns

24 Volt of Fun

Peg Perego - Polaris Ranger RZR with additional Battery and Charger (so the fun doesn't have to end!)

Pink 2 Seater Ride on Toy Jeep 2 Seater.

12V Kids Ride On Large Truck Battery Powered Electric Toy Vehicle w/Spring Suspension, Remote Control, Foot Pedal Modes, Music, Horn, MP3 & Headlights- Pink

12 Volt Mercedes Benz Car for Kids

12 Volt Mercedes Benz Car for Kids

Ride on Toy 3 Wheel Motorcycle

Little Brown Box Kids Dirt Bike 6V Ride On Motorcycle Vehicle Toy - Electric Three Wheels Quad - Battery Powered, Lights, Sound Kids Motorcycle for Toddler, Girls & Boys 1,2,3 Years Old -Orange

Kids Mini Cooper Ride on Toy Car

Rollplay 6V Mini Cooper Kid's Ride-On Car - For Boys & Girls Ages 3 & Up - Battery-Powered Ride On Toy - Yellow

Segway Ninebot Drift W1, Electric Ro

Yet another unreal product from Segway... get your "Self Balancing Drift Skates" now for only $403.48

Rollplay Train Ride-On

$136.34 & FREE Returns

Hit the Dirt

The Razor MX650 Both my daughter at 8 & son at 7 each had an MX650 from Razor. They loved them. Eventually they went on to ride gas powered bikes. My son got a KTM 50cc bike & daughter (16 months older, a lot taller) got a Yamaha 90cc bike.

Ride on Toy 6 Volt Garbage Truck

Kid Trax Real Rigs Toddler Recycling Truck Interactive Ride On Toy, Kids Ages 1.5-4 Years, 6 Volt Battery and Charger, Sound Effects, 9 Recycling Accessories Included

6 Volt Ride on Toy CAT Quad

Kid Trax CAT Toddler Quad Ride On Toy, 6 Volt Battery, 1.5-3 Years Old, Max Weight 44 lbs, Single Seater, Yellow (KT1575AZ)

Slingshot Style Kids Ride on Toy Car

Uenjoy 2 Seats Kids Car 12V Ride On Racer Cars Battery Operated Electric Cars w/ 2.4G Remote Control

Peg Perego John Deere Ground Force Tractor with Trailer

$279.00 Prime FREE Delivery

Power Wheels Thomas & Friends, Thomas Train with Track

$125.38 Prime FREE Delivery & FREE Returns

12v Pink Battery-Powered Toy Tractor with Trailer

Price: $169.99 & FREE Shipping

Radio Flyer 24v Ultimate Go-Kart

Ages: 3-8 Price: $299.99 & FREE Returns

Electric Red Ride On Bumper Car

Best Seller Price: $169.96 & FREE Shipping

Digger Scooter, Ride-on Excavator, Pulling cart

Price: $64.98 FREE with PRIME & FREE Returns

Let's Race!

Razor Dune Buggy, one of my kids favorite ride on toys of all time!